Rare London have chosen a selection of fashion bloggers and asked me to be part of their "Clothes I simply Can't Live Without" competition. Being a slight shopaholic and clothes lover this can change almost every week so it was pretty hard to narrow it down but I decided to focus on what I have been loving this past few weeks and include those items in this post as they truly are what I have seen myself incorporating into my style pretty much everyday in one way or another.

If you follow my blog or instagram you may have noticed my slight obsession with the monochrome trend and in particular my white blazer lately which not only is super stylish , super comfy it finishes of each look superbly giving you a clean and chic look , lets be honest ladies simplicity is always on trend.
The White Blazer Craze
I bought my white blazer in H&M for £24.99 which was an absolute bargain if I may say so myself. I have already gotten so much wear out of it and can see it being my staple item throughout the spring and summer seasons. It is such a versatile item as it can be worn with dresses trousers , play suits you name it girl! Personally I love pieces which are versatile as they can be worn with pretty much anything you have in your wardrobe! Score!!!
Leather Trousers ( of course make sure they are faux)
These have been another big trend this past few months which I have loved and stayed faithful too. These ones I am sporting below are from the Front Row Shop , once again they are extremely comfortable, although they have a lather look they almost feel like your wearing leggings due to the material: comfort and style in one yes please!!!
Black Sandals
Sandals are back in the Fashion World ladies so go get yourself a pair as they are a spring/ summer 22014 essentials. I bought these last year in New Look on sale and I got to say it was one of those 'I am so glad I got you" shopping moments when I discovered them again this spring.
Here's How I styled my ultimate 'Can't Live Without Items":
LOOK ONE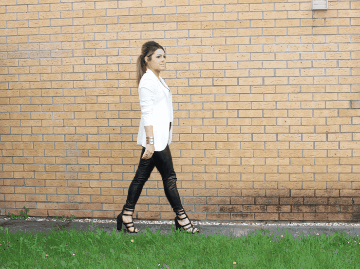 LOOK TWO
So if your a bit of a Fashionista and want to have a chance to win £200 for a bit of a shopping spree wait no more and find out more about the competition by clicking here. Once you enter you nominate three other bloggers to take part in this. I nominate :Blooming Flowers in July, Salted Roses & Couture Case as well as any of you that would like to take part in this competition. What are you clothing items you simply can not live withoout?